Yearly Jams and Workshops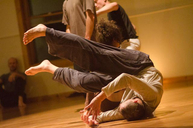 © John Barrett 2010
We have re-started Tuesday weekly dancing, but have suspended all yearly events in response to Covid-19. We will monitor the situation and resume event planning sometime in the future.


In the past, in addition to our weekly jams, Contact Improv Boston usually sponsors several annual events: May Jam, Fall Jam, and a winter teaching event that varies in scope.
---
NEXT UPCO
MIN
G EVENTS:
There may be a Fall Jam 2022, in person sometime in October.

May Jam Workshop, w/ Funda Gul and Gabi Revlock
May 28-29, 2022
Fall Jam 2019, w/ Alyssa Lynes as Artist-in-Residence
October 25-27, 2019
Fall Fundamentals 2019, Saturday workshops
October 5th, Stephanie Turner and
November 2nd, Liz Roncka
28th Annual May Jam, May 24-27, 2018
Daniel Bear Davis as Artist-in-residence. Stan Strickland for Saturday night music.
Aqua Jam after-party. Thank you Artemis.
Winter Weekend Workshop, Intermediate/Advanced w/ Andrew Harwood
Emptying, Landing, Soaring
Spring Weekend Workshop, 2019
March 8-10, 2019 - Andrew Harwood
Fall/Winter Saturday Class Series, 2018
November 10, 2018 Daniel Davis
December 1, 2018 - Moti Zemelman
Fall Jam 2018 Patrick Crowley, Artist in Residence. Saturday party at Derek's
27th Annual May Jam, May 25-27, 2018
Moti Zemelman as Artist-in-residence. Stan Strickland for Saturday night music.
Intermediate/Advanced Workshop with Chris Aiken
Degrees of Freedom - March 23-25, 2018
At Choice and Creativity - January 27th, 2018 Alyssa Lynes one-day workshop
Fall 2017, Fundamentals Workshop Series
Brando September 23rd
Neige October 14th
Olivier November 4th
May Jam, 2017 - May 26-28, 2017 Headlining Rachel Schwartz and Stephen Katz
Intermediate/Advanced Weekend workshop w/ Scott Wells - March 31-April 2, 2017
Winter Fundamentals One-day workshop with Brando, January 14th
Fall One-day Workshop, 2016 with Alyssa Lynes - November 12, 2016
Fall Jam, 2016 with A-I-R Bradley Teal Ellis - October 8-9, 2016
Global Underscore, 2016 - June 19, 2016
Boston participates in worldwide event
25th Anual May Jam, Jeff Bliss as A-I-R May 27-29, 2016
Basics with Patrick Crowley - February 13, 2016
Intermediate/Advanced with Kirstie Simson - March 11-13, 2016
(event co-produced with ElectricFishStudio.com)
Fall Jam and Workshop with Paul Singh - Oct 9-11,2015
24th Annual May Jam with Kristen Horrigan- May 22-24, 2015
Winter Workshop with Martin Keogh, February 20-22, 2015
Fall Jam and Workshop with Chris Aiken, October 10-12, 2014
Global Underscore: June 22, 2014
23rd Annual May Jam: Non-stop Jamming, May 23-25, 2014
PLUS Monday Class, May 26 ⇒ Both with Tim O'Donnell

Winter Workshop: February 21-23, 2014
The Art and Sport of Contact Improvisation with Ray Chung
Fall Jam/Workshop: Oct 11-13, 2013 Jamming & classes, Tim O'Donnell and Patrick Crowley, also Saturday Contact Jam with music by Richard Kim.
22nd Annual May Jam, May 24-26, 2013
Followed by a Full-day Workshop with Karen Nelson, May 27
The Art of Listening with Kirstie Simson - February 10-12, 2012