Winter Weekend Workshop with


Kirstie Simson
Friday

-

Sunday, February 10 - 12, 2012
THIS WORKSHOP IS NOW FULL. If you would like to be on the Waiting List, contact Max: registrations@contactimprovboston.com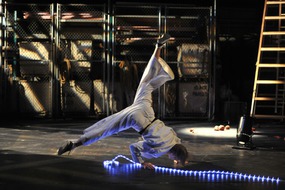 © Dan Merlo
"The Art of Listening"
(Class description below)
A Contact Workshop for
Dancers at All Experience Levels
⇒Kirstie is an award-winning
dance teacher and improvisor
⇒Don't Miss this Opportunity
Four Workshop Sessions: Friday evening, Saturday morning, Saturday afternoon, Sunday morning

Saturday evening potluck gathering, optional
(Limited to the participants of the workshop series)
---
SCHEDULE:
Friday night, 6:30-7pm Registration and Personal Warm-up
7-10pm First Workshop Session
Saturday, 10-10:30am Late Registration and Personal Warm-up
(Please arrive having eaten breakfast)
10:30am-1pm Second Workshop Session
1-2pm Lunch provided
2-6pm Third Workshop Session
6-8pm Dinner Break (eat at local restaurants)
8-11pm Party - Bring Pot Luck Snacks & Drinks
Sunday, 10am-1pm Fourth Workshop Session
---
COSTS:
Note: Discount applies ONLY if you Pre-register and pay for the Whole Event.
Whole Event - On-line Pre-Registration Discount*
$135 - Regular rate - Employed
$115 - Full Time Student or Unemployed rate
$170 - Professional rate - Contributing to your retirement
$240 - Sponsor rate - SUPPORTING THE ARTS!


*Must register and pay by February 8
Whole Event - At the Door (Only if space is available)
$145 - Regular rate
$125 - Full Time Student or Unemployed
$180 - Professional
$250 - Sponsor
---
REGISTRATION:
Sorry, we're full. If you want to be on the waiting list, please contact Max at registrations@contactimprovboston.com
OUT-OF-TOWNERS:
You are Welcome!!
We can help you with housing here in homes of local dancers.
Please pre-register and indicate you need housing; we'll work it out for you.
---
LOCATION: for all Workshop Sessions
Cambridge Masonic Hall, 1950 Mass. Ave, Cambridge, MA (Porter Square)
Park on far side of the lot behind Elephant Walk Restaurant, 2067 Mass Ave (across the street, north 3 blocks)
Here's a link to a map showing the venue and where to park: http://maps.google.com/...
Note: Saturday night party location to be announced at the workshop.
---
WORKSHOP DESCRIPTION:
"The Art of Listening"
A Contact Improvisation Workshop for all Levels of Experience.
Our focus will be on exploring uninhibitedly the huge potential of the body's response to the primal urge to move, inspired by deep energies released through human interaction, physical challenge and through the excitement of discovering new territory, new sensations and a daring to go beyond inherent ideas of limitation.
The workshop will be built on very simple physical principles allowing students to explore their experience of moving and to understand their own bodies more profoundly, which is often experienced as joyful and liberating. This workshop sessions offer students a way to extend and deepen their experience of moving, to practice the skills of dancing in partnership with others and improvising with greater sensitivity to each other and the environment.
Kirstie will be focusing on various aspects and techniques for freeing up the body—allowing it to move with greater ease and grace. She has spent many years—researching ways of moving which generate full and fearless dancing, and she enjoys the challenges of intense physicality. Kirstie will be sharing her discoveries with students.
In recent years Kirstie's focus has been directed towards the art of deep listening within her practice of improvisation. During this workshop she will be sharing her insights and understanding of the essential quality of listening within the art of improvisation, and how this pertains to her experience of improvisation in performance.
Classes draw from her knowledge of contact improvisation, dance techniques, Aikido, meditation and her extensive experience of improvisation in performance.
---
BIO:Kirstie Simson (UK) has been a continuous explosion in the contemporary dance scene, bringing audiences into contact with the vitality of pure creation in moment after moment of virtuoso improvisation. Called "a force of nature" by the New York Times, she is an award-winning dancer and teacher who has "immeasurably enriched and expanded the boundaries of New Dance" according to Time Out Magazine, London: "Simson's eternal subject is freedom, as she dares to go beyond the boundaries of form and structure to create movement out of the rhythm of life itself."
For the past thirty years Kirstie has collaborated with many dancers and musicians who share a common interest in Improvisation, including Julyen Hamilton, Steve Paxton, Nancy Stark Smith, Simone Forti, Andrew Harwood, Russell Maliphant, Michael Schumacher, Adam Benjamin and Le Quan Ninh. Kirstie was awarded a London Time Out 'Dance and Performance Award' as "a unique figure in the dance world.
Kirstie is renowned today as an excellent teacher and captivating performer and a leading light in the field of Dance Improvisation. In 2010/11 she taught workshops for Sasha Waltz and Guests, Germany, Cloud Gate Theater Company, Taiwan and Scottish Dance Theater, United Kingdom. Kirstie receives world–wide invitations to share her knowledge with dance companies, dance institutions, dancers and non-dancers, she believes Improvisation is a life-practice, is passionate about how this work benefits people's lives and their art making. In July 2012 she will return to Taiwan to teach Cloud Gate Theater Company and to collaborate with Michael Schumacher creating a new work for Taipei Dance Forum Company.
Kirstie has been involved in making a film about Dance Improvisation with Scottish filmmaker Katrina McPherson for the past five years. The film was premiered in Scotland in July 2011.
In January 2008 Kirstie joined the faculty of the Dance Department at the University of Illinois in Urbana-Champaign, USA, where she is a full-time teacher of Dance Improvisation. She has taken students to Taiwan, Cambodia and Italy and is helping to educate a younger generation of dancers into a new way of viewing dance, connecting them with the world they are entering after graduation and the demands the future will place upon them.
---
FOR MORE INFO:
E-mail:
Maxine Gautier (Registration Questions), registrations@contactimprovboston.com
HOPE TO SEE YOU THERE!!