Yearly Events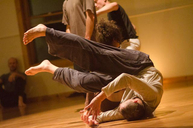 © John Barrett 2010
In addition to our weekly jams, Contact Improv Boston sponsors several annual events: May Jam, Fall Jam, and a winter teaching event that varies in scope. Here's the schedule for the next few years.
---
NEXT UPCO
MIN
G EVENT:
FALL JAM & WORKSHOP
October 11-13, 2013
Classes w/ Patrick Crowley & Tim O'Donnell
Registration to open this week
---
PAST EVENTS:
22nd Annual May Jam, May 24-26, 2013
Followed by a Full-day Workshop with Karen Nelson, May 27
What an amazing weekend. Over 100 locals and out-of-towners converged for three days of jamming, followed by a 6-hour workshop on Monday Memorial Day. The Sunday evening "Underscore" was a highlight for many. This new format of inviting the May Jam artist-in-residence to host a master class on Monday was a hit. Karen was the star, bringing her 35 year-plus point of view to the jam and the workshop. Wow!
May Jam is an annual event every Memorial Day weekend. See you in May 2014.
We have never had to cancel a major event before and hope never to do so again, but under the circumstances, this was the right call. A huge blizzard hit Boston hard from mid-day, Friday until Saturday evening. Two feet of snow fell exactly during the busiest part of our Festival schedule. All roads and public transport were closed and the city was officially shut down.
We sorely missed the opportunity to jam for hours and take classes with Patrick Crowley and Brando. A great music and dance jam with John Hughes and Beniot Guilemmette was also canceled. It was a sad weekend for dancing. All pre-registration funds were refunded in full.
What a great weekend we had! Jamming in the mornings and classes in the afternoons, evening jams (one with music by Stan Strickland).
The Fall Jam's classes were popular with Kristen's intermediate/advanced class full from on-line pre-registrations and Moti's class filling at the door. The jams allowed the last few stragglers in with only a bit of breathing room to spare. Feedback on the workshops and lab was very positive; the food was delicious; all the out-of-towners were successfully housed. What more can we say? How about, "See you again next Columbus Day weekend".
The Art of Listening with Kirstie Simson - February 10-12, 2012
Our weekend intensive with Kirstie Simson was a great success! We look forward to bringing Kirstie and other such fabulous teachers to Boston in the future.