Yearly Events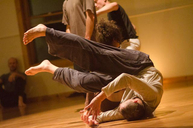 © John Barrett 2010
In addition to our weekly jams, Contact Improv Boston sponsors several annual events: May Jam, Fall Jam, and a winter teaching event that varies in scope. Here's the schedule for the next few years.
---
NEXT UPCO
MIN
G EVENT:
23rd ANNUAL MAY JAM
May 23-25, 2014
with Artist-in-Residence - Tim O'Donnell
Followed by a Full Day Workshop with Tim, May 26th
---
Winter Workshop: February 21-23, 2014
The Art and Sport of Contact Improvisation with Ray Chung
How amazing can a weekend workshop be? One participant was heard to say: "Ray's teaching has truly been the best; it is the most accessible work I have experienced for dancers at all experience levels". The material covered in this workshop was conceptual - inside the head, the fascia, the patterns; it changed our dancing. Ray's material was so presentable, easy to follow, but deep in it's results. His study reached into our bodies with the showing of an excerpt from Strolling Under the Skin, a microscopic investigation of fascia. Amazing! Next winter there will be another great teacher in this time frame.
Was a wonderful weekend! Jamming in the mornings and classes in the afternoons, evening jams (Saturday Contact Jam with music by Richard Kim).
The Fall Jam's classes were popular with Tim O'Donnell's intermediate/advanced class full from on-line pre-registrations and Patrick Crowley's class filling at the door. The jams allowed the last few stragglers in with only a bit of breathing room to spare. Feedback on the workshops and lab was very positive; the food was delicious; all the out-of-towners were successfully housed. What more can we say? How about, "See you again next Columbus Day weekend".
22nd Annual May Jam, May 24-26, 2013
Followed by a Full-day Workshop with Karen Nelson, May 27
What an amazing weekend. Over 100 locals and out-of-towners converged for three days of jamming, followed by a 6-hour workshop on Monday Memorial Day. The Sunday evening "Underscore" was a highlight for many. This new format of inviting the May Jam artist-in-residence to host a master class on Monday was a hit. Karen was the star, bringing her 35 year-plus point of view to the jam and the workshop. Wow!
May Jam is an annual event every Memorial Day weekend. See you in May 2014.
The Art of Listening with Kirstie Simson - February 10-12, 2012
Our weekend intensive with Kirstie Simson was a great success! We look forward to bringing Kirstie and other such fabulous teachers to Boston in the future.