Yearly Events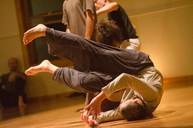 © John Barrett 2010
In addition to our weekly jams, Contact Improv Boston sponsors several annual events: May Jam, Fall Jam, and a winter teaching event that varies in scope. Here's the schedule for the next few years.
---
NEXT UPCO
MIN
G EVENTS:
Winter Fundamentals Series, 2017: with Brando and Tanya - January 14, 2017
---
Fall One-day Workshop, 2016 with Alyssa Lynes - November 12, 2016
Fall Jam, 2016 with A-I-R Bradley Teal Ellis - October 8-9, 2016
Global Underscore, 2016 - June 19, 2016
Boston participates in worldwide event
25th Anual May Jam - May 27-29, 2016
Basics with Patrick Crowley - February 13, 2016
Intermediate/Advanced with Kirtie Simson - March 11-13, 2016
(event co-produced with ElectricFishStudio.com)
Fall Jam and Workshop with Paul Singh - Oct 9-11,2015
24th Annual May Jam with Kristen Horrigan- May 22-24, 2015
Winter Workshop with Martin Keogh, February 20-22, 2015
Fall Jam and Workshop with Chris Aiken, October 10-12, 2014
Global Underscore: June 22, 2014
Participating in a world-wide practice on the Summer solstice, we returned to the Cambridge Masons Hall to join a circle of dancers virtually ringing the globe. For our opening small dance we faced Santiago, Chile. We closed facing Stuckley-Sud, Canada. Underscore highlights included: drawing energy out of the earth, fast and slow coincidences, napping, toilet paper wrapping, dancing with streamers and a short blind interlude. It sent chills up my spine to know that hundreds, if not thousands, of dancers shared this event with us. We hope to repeat Boston's participation next year.
23rd Annual May Jam: Non-stop Jamming, May 23-25, 2014
PLUS Monday Class, May 26 ⇒ Both with Tim O'Donnell
Back by popular demand, Tim continued to amaze us with his concept oriented teaching. He focused on the fact that dancers never stop moving and the dance never stops changing. He challenged us to decide to go somewhere only at the last minute, to commit to it fully, but to be prepared to respond to changing situations as they evolve. Mix it up: jump, change, land somewhere you least expected to.
May Jam happens Memorial Day Weekend every year. See you in 2015!

Winter Workshop: February 21-23, 2014
The Art and Sport of Contact Improvisation with Ray Chung
How amazing can a weekend workshop be? One participant was heard to say: "Ray's teaching has truly been the best; it is the most accessible work I have experienced for dancers at all experience levels". The material covered in this workshop was conceptual - inside the head, the fascia, the patterns; it changed our dancing. Ray's material was so presentable, easy to follow, but deep in it's results. His study reached into our bodies with the showing of an excerpt from Strolling Under the Skin, a microscopic investigation of fascia. Amazing! Next winter there will be another great teacher in this time frame.
Fall Jam/Workshop: Oct 11-13, 2013 Jamming & classes, Tim O'Donnell and Patrick Crowley, also Saturday Contact Jam with music by Richard Kim.
22nd Annual May Jam, May 24-26, 2013
Followed by a Full-day Workshop with Karen Nelson, May 27
The Art of Listening with Kirstie Simson - February 10-12, 2012