Contact Teachers, Classes & Workshops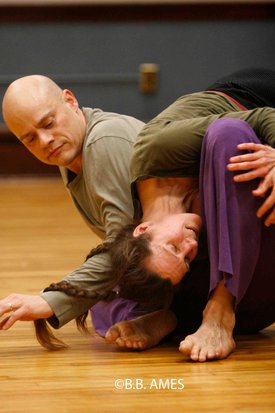 ©B.B. Ames
Contact Improv Boston's Sunday Class is currently a class/jam combination. Rotating teachers are Mike Klinger, Catherine Musinsky, Christopher Ellinger and Amber Esper. Irregularly the event hosts guest teachers from out of the Boston area. Details
---
Here are some Contact Improvisation teachers in the Boston area. Check each listing for their current offerings.
Olivier Besson
Olivier Besson splits his time between Paris and Boston, teaches Improv and Contact Improvisation at the Boston Conservatory. He occasionally offers workshops in the Boston area.
Neige Christenson
Neige Christenson teaches Contact Improvisation and Authentic Movement in the Boston area. She offers classes and individual
coaching
in Contact Improvisation.
For more information contact Neige by phone:
781-330-1639 (cell)
or email: neigechristenson@gmail.com
Mike Klinger
Mike Klinger teaches Contact Improvisation on some
Sundays
at the Arlington Center. He also offers contact and martial movement workshops, and runs a martial improvisation class at Nia for Life in Concord. Drop-ins are welcome.
Contact Mike by phone: 978 919-4217 or email: mklinger@anzuglobal.com
Catherine Musinsky
Electric Fish Studio
provides weekend intensives in contact improvisation and related somatic practices. Their Fall 2014 lineup includes the Axis Syllabus and Nancy Stark Smith's "Making the Mystery Visible." For more info, visit
their website.