Sunday Class/Jam at the Arlington Center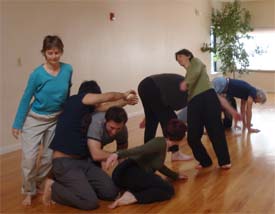 photo by Neige Christenson
Join us for luscious dancing in a beautiful space on the following dates. Note that Sunday Jams are many, but not all Sundays.
2016 dates for the Sunday Jam
* July 10, 17
* August 14, 21, 28
* September 4, 11, 18
* October 2, 16, 30
When: 11:30am to 1:30pm (Arlington Class/Jam)
Where: at the Arlington Center yoga studios, 369 Mass. Ave., Arlington.
There is plenty of free street parking and is accessible by bus. See their website for directions.
Format: The first hour of the event is a class followed by an hour of jam.
Teachers: Classes are generally taught by Mike Klinger, Amber Espar, or Christopher Ellinger. Guest teachers sometimes join us.
Classes are open to all levels, and will focus on the fundamentals of the form, as well as provide a training ground for safe jamming.
Price: Admission is $9 at the door for use of the space, and less if you buy a class card for a series of classes. In addition, we suggest a $5-10 donation for the teacher.