Tuesday Jam
© Jun Akiyama
Tuesday Jam
Every week, 8-10pm
First Church Cambridge, 11 Garden St,
Harvard Square. No experience necessary!
---
Before the Jam, 6:30-8pm

♦ Other than First Tuesdays
Before-the-Jam Class, 6:30-8pm
Rotating teachers.
♦ First Tues Every Month
Underscore
Talk-thru 6:30; Practice 7:30-10, starts promptly.
♦ Tuesdays in June, July and August, 6:30-8pm
Before-the-Jam Picnics... No clesses these months
Cambridge Commons Details here
Ends at 7:30 on First Tuesday each month. Indoors if it rains.
---
---
For most complete information...
About jam schedule for the current season,
if you are not already getting [CIB] email...
Join the Email list-serve & keep updated
---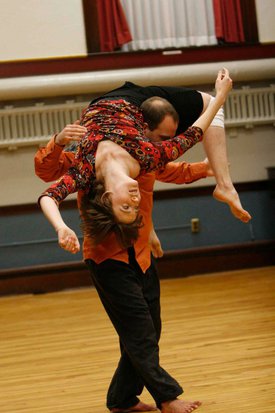 ©B.B. Ames
Regular Tuesday
Contact Improvisation Jam
When: Every Tuesday evening
See updated schedule on homepage.
Where: All Tuesday events - First Church, Cambridge, near Harvard Square,
11 Garden St, Cambridge, MA
Cost: Regular price is $10; $8-16, sliding scale (most Tuesdays)
$10-25 for First Tuesday Underscores.
Additional fee for before-the-jam classes.
Description:
The Jam is a Playground
Welcoming to all levels of experience
Inviting you to explore
Take risks... Be safe... Have fun...
Dance with one another!
Before the jam events begin as early as 6:30. The regular jam begins at 8pm.
A facilitator gathers the group sometime around 8pm for a brief check-in circle and a led warm-up. The facilitator will often give the evening a focus or theme, and sometimes will lead a structure for the end of the dancing period. We finish with a quick circle to share our experiences and make announcements. The jam ends approximately 10pm.
You don't need Contact Improv experience to participate and enjoy the jam. Everyone is welcome, regardless of experience, age, physical ability or any specifics of background. If you are new to Contact, feel free to ask the facilitator or one of the other more experienced dancers to help you out with a quick orientation.
The Jam is facilitated by Amber Espar, Christopher Ellinger, Dey Summer, Maxine Gautier, Neige Christenson, Nelson Tetreault, Paul Spielman and others.
Watch for special announcements about Tuesday jams at the Yahoo Groups Contact Improv Boston list-serve. You can join this e-mail list and get the up-to-date info directly in your in-box with your e-mail. We try to do something a little out of the ordinary when there are five Tuesdays in a month! You never can tell what might happen so stay informed.
For more info contact:
Max 978- 857-5513 joyfuldanseur@gmail.com
Paul 781-254-0868 lisapaul2@comcast.net
Or Contact us through the website.