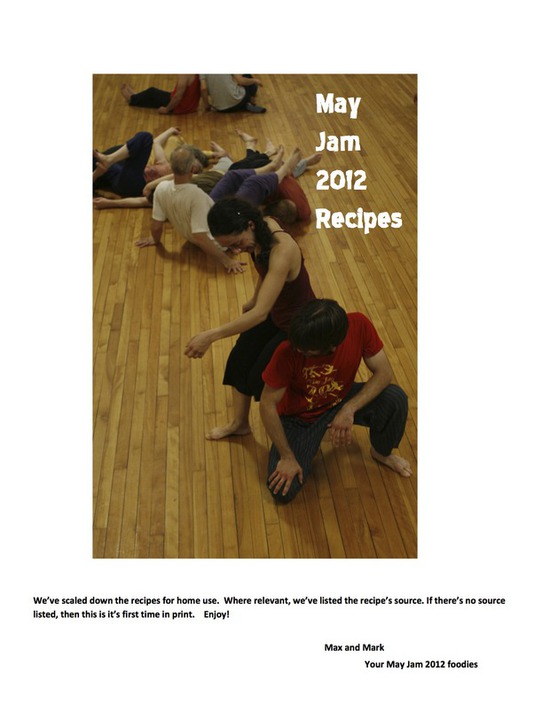 Spinach-Tofu Jewels with two sauces ...
adapted from Vegetarian Nights, by Bonnie Mandoe

Recipe makes 40 balls. Preheat oven to 375° F.
Sauté lightly:
1 onion, finely diced in a little olive oil
Place in mixing bowl, and combine with hands:
Sautéed onion
10 oz. (284 gm) box frozen chopped spinach, thawed, squeezed until mostly dry 1 lb. firm tofu (about 450 gm), crumbled by hand
4 oz.(115 gm) can diced green chilies
1 teaspoon (or more, to taste) ground cumin
2 teaspoon (or more to taste) dried oregano, preferably Mexican oregano Pinch cayenne pepper
1 teaspoon salt
1 /2 cup garbanzo flour
Roll into balls, place on lightly greased baking sheet. Bake until lightly golden and firm, about 40 minutes. Serve warm with dipping sauce(s).
Adobo Dipping Sauce
In a small saucepan over medium heat, cook:
1 1 /2 cup diced tomato (1-2 fresh, or 1 small can) 1 /2 to 1 canned chipotle pepper, chopped (Chipotles canned in adobo sauce – these are spicy; start with 1 / 2 and add more to taste).
Salt and pepper to taste
Cook, stirring occasionally, until tomatoes are softened and some liquid has reduced. Transfer to a blender jar (or use an immersion blender) and blend sauce until smooth. If you want it spicier, add a little of the sauce from the canned peppers in adobo... or add cayenne pepper or hot sauce. Can be served warm or cold.
Cool Cilantro Dipping Sauce
Combine in mixing bowl:
1 C. sour cream
1/ 2 small cucumber, peeled, seeded and grated Large handful cilantro, chopped
Salt and pepper to taste
Chill before serving.
Note: this is a very versatile recipe. The original recipe was flavored with curry, and had a tahini-garlic sauce. An Asian- style version with soy and wasabi, or Middle-eastern with za'atar and cumin are good, too.
Roasted Corn and Bean Salsa
Makes about 6 C.
Turn on broiler to preheat. Lightly oil a heat-proof roasting pan. Spread on the pan:
About 2 C. frozen corn kernels, thawed (even better: use fresh in the summer)
Broil until corn dries out a little and has some toasted spots. This will take 5-10 minutes, depending on the heat of your broiler. Stir the corn several times during the broiling time so it all cooks relatively evenly. Transfer corn to a mixing bowl, add:
About 2 C. cooked black beans (For May Jam, we cooked them from scratch; canned works too) 1 red pepper, finely diced
Generous handful chopped cilantro (more to taste)
Generous spoon tomatillo salsa (can be omitted)
Salt and pepper to taste
In a blender jar, combine:
2 tablespoons lime juice
1 tablespoon mild vinegar (we used white balsamic)
1 tablespoon water
1 – 2 cloves garlic
1 tomato, diced (or use scant cup canned) 1 Tsp. cumin seed
Salt / pepper to taste
Blend until well-combined. Drizzle in:
1 /3 C. olive oil.
Pour about half of the dressing on the corn-bean-pepper mixture and stir well. Taste and add remaining dressing and additional salt, pepper if desired. Chill before serving.
Mexican-Style Spicy Brownies
Use your favorite brownie recipe − from scratch or mix. To the dry ingredients, add:
1 Tsp. cinnamon
3/ 4 tsp. chipotle powder
Mix and bake in normal fashion.
Note: we admit ... we use Ghirardelli brownie mix. Lots of it, mixed according to package directions. Max has tried several brands of gluten-free brownie mix, and also made them from scratch. They all work fine with the added spice. If you don't have chipotle powder you can use cayenne – start with 1/ 4 tsp.)
Lemony Brown Rice Salad with Dijon-vinaigrette
Makes about 2 quarts.
Combine in bowl:
4 C. cooked brown rice, cooled
1 medium zucchini, cut into spears, then sliced thinly so each piece has some green skin 1/ 2 C. black olives, sliced in rings
1 /2 C. peeled, diced carrots
Generous handful parsley, chopped
1/4 C. finely diced celery
2 tsp. lemon zest
Set bowl aside. Combine in a blender or shaker jar:
3 tablespoons white balsamic vinegar (or use 2 T. lemon juice, 1 T. vinegar) 1 tablespoon water
2 teaspoon Dijon vinegar
1 /2 teaspoon. salt
1 clove garlic
Blend together or shake vigorously. Add:
6 tablespoons olive oil
Pour about half of the dressing over the rice mixture and stir. Taste, add remaining dressing if necessary. Chill until serving time.
Curried Garbanzo Sandwich Spread from St. Martin's Table Restaurant Cookbook
Makes 4 cups
Process in food processor and put in large bowl:
1 clove garlic
2 C. cooked garbanzo beans (ours were freshly pressure-cooked... you *could* -Mark cringes – used canned) 1⁄2 C. water chestnuts
If mixture seems too dry, and 1 tablespoon water and process again. Stir in:
1 /2 cup dried currants or raisins
1 /4 cup chopped scallions
1 /2cup minced green or red peppers (we used yellow/orange/red)
Combine the following spices and mix until smooth, then add to bean mixture:
2 teaspoons curry powder
2 tablespoons olive oil
3 tablespoons almond butter 1 /4 teaspon salt
a dash of cayenne pepper
Mix thoroughly and chill.
Ginny Sutton's Thai Tofu Sandwich Spread from St. Martin's Table Restaurant Cookbook
Makes about 2 cups
Combine in a mixing bowl:
8 oz. (xxx gm) firm tofu, mashed with a pastry cutter or fork 1 /4 cup grated carrot, lightly packed
2 tablespoons minced red onion
1 /2 tsp. minced garlic
2 tablespoons cilantro, chopped fine
Blend together and fold into tofu mixture:
1 /4 cup natural crunchy-style peanut butter 2 tablespoons fresh lime juice
1/ 4 teaspoon lime zest
3 tablespoons tamari
1 /4 teaspoon cayenne pepper Adjust seasoning to taste. Refrigerate.
May Jam Gazpacho (recipe adapted from The Kripalu Cookbook by Atma Jo Ann Levitt) Makes a little over two quarts.
Combine and process briefly in a food processor (you don't want pureé):
3 diced tomatoes
Half a red onion, chopped
2 cucumbers, peeled, seeded and chopped 2 cloves garlic
Transfer to a bowl and add:
3 cups finely diced watermelon Tiny dash Tabasco
6 cups tomato juice 1/ 4 C. red wine vinegar
1 1/ 2 limes, juiced 1 tablespoon chopped fresh basil 1 lemon, juiced Scant 1 /2 cup minced parsley
2 teaspoons chopped fresh tarragon 1 /4 cup olive oil
3/ 4 teaspoon cumin Salt and pepper to taste
Serve very cold.
Note: the original recipe called for all tomatoes (6) and no watermelon. Mark says it's great that way, too. Max says you can substitute almost all of the tomato for watermelon in almost any gazpacho recipe, if you want it less acidy.
Pooshnikai Koyamboo (Winter Melon and Yogurt Soup) (from Classic Indian Vegetarian and Grain Cooking by Julie Sahni)
1 1/ 2 lbs. Chinese winter melon:
2 C. water
2 C. plain yogurt
1 C. packed flaked coconut, fresh or unsweetened canned 6 hot green chilies
2-inch piece fresh ginger, peeled 1 1/ 2 tsp. coarse salt, or to taste 4 Tablespoons light sesame oil
2 Tsp. black mustard seeds
2 Tablespoons finely chopped cilantro
Peel the winter melon and scrape out the fibrous center and seeds. Cut the melon into 1-inch (2.5 cm) wide wedges, cut each wedge into 1/8 inch (3 mm) slices.

Put the winter melon slices in a 3 or 4 quart pan along with 2 C. water and bring to a boil. Lower the heat and cook, covered, for 5 minutes or until the melon is transparent and barely cooked.

While the winter melon is cooking, put the yogurt, coconut, chilies, ginger and a little salt into the container of a blender or food processor and process until the contents are reduced to a fine puree.

Add this yogurt-coconut puree to the winter melon and continue cooking for an additional 4 or 5 minutes or until the contents are heated through. Turn off the heat.

Measure out the spice. Heat the oil in a small frying pan over high heat. When the oil is hot, add the mustard seeds. Keep a pot lid handy, as the seeds may fly all over. When the seeds stop splattering, pour the entire contents of the pan over the soup. Mix well and cool thoroughly.
Serve garnished with chopped cilantro.
Note: this recipe was meant to be served cold... but we thought it tasted better warm!
And more where that came from:
Mark's fab sandwich spread recipes came from the restaurant, St. Martin's Table (now closed), where he used to work. He describes it as a "simple living, food-activist" kind of place. If you're interested in more of the restaurant recipes, contact Mark.
If you'd like to contribute recipes or your cooking expertise to future Boston jams, let us know. We always welcome creative cooks and willing helpers to our planning meetings and our Friday-before-the-jam cooking marathons.