Tuesday Jam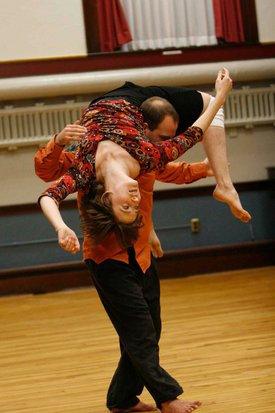 ©B.B. AmBefore theJ
Special Before the Jam Class:
Liz Roncka in April and May, 2013 Details
---
What: Contact Improvisation Jam
When: Every Tuesday evening
We open the doors at 7:45 and start dancing at 8:00.
At about 9:50 we gather for quick sharing of reactions, names and announcements.
We clear out and lock up not much after 10pm.
Where: Masonic Hall at 1950 Mass. Ave, Cambridge.
Cost: $8 - $12 (sliding scale)
Description:
The Jam is a Playground
Welcoming to all levels of experience
Inviting you to explore
Take risks... Be safe... Have fun...
Dance with one another!
People arrive as early as 7:45 to stretch and for personal warm-ups. A facilitator gathers the group sometime between 8 and 8:10 for a brief check-in circle and a led warm-up. The facilitator will often give the evening a focus or theme, and sometimes will lead a structure for the end of the dancing period. We finish with a quick circle to share our experiences and make announcements.
You don't need Contact Improv experience to participate and enjoy the jam. Everyone is welcome, regardless of experience, age, physical ability or any specifics of background. If you are new to Contact, feel free to ask the facilitator or one of the other more experienced dancers to help you out with a quick orientation.
The Jam is facilitated by Christopher Ellinger, Paul Spielman, Maxine Gautier, Mike Klinger, Neige Christenson, Olivier Besson, Catherine Musinsky, Elizabeth Cooper, Peter Benjamin, Amber Espar and others.
Watch the for special announcements about Tuesday jams at the Yahoo Groups Contact Improv Boston list-serve. You can join this e-mail list and get the up-to-date info directly in your in-box with your e-mail. We try to do something a little out of the ordinary when there are five Tuesdays in a month! You never can tell what might happen so stay informed.
For more info contact:
Max 978- 857-5513 joyfuldanseur@yahoo.com
Paul 781-254-0868 lisapaul2@comcast.net
Or Contact us through the website.